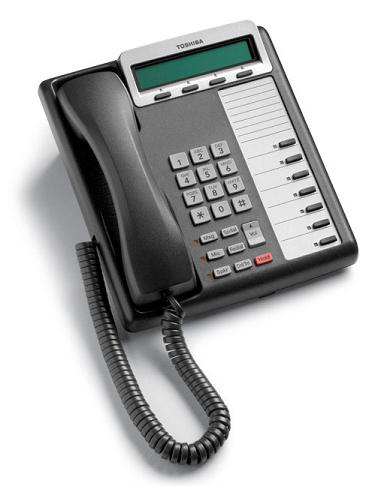 The Toshiba CTX28 is perfect for the small business that needs all the features of a larger system, but at a small business price. Starting out at 3 lines and 8 phones, the CTX-28 is affordable, but can still grow to 6 lines and 16 phones.
The CTX28 includes free Caller ID with number storage and even includes remote administration hardware for free. Other standard features are music on hold, intercom, conference calling, line privacy, and more. Click here for full list of features.
The CTX28 also supports a fully integrated plug and play flash based voice mail system with 4 ports and 20 hours of storage time. The voice mail includes the ability to get your message from any touch tone phone, cell phone or home phone notification of messages, soft keys, conversation recording, live monitoring, and much more.
A CTX-28 system with voice mail and 4 phones (shown at right) starts at under $2500 including installation, complete set up, training, and one year warranty. Systems without voice mail start under $1500.
Call 800-Teleco-4 (800-835-3264) today to speak with one of our knowledgeable sales representatives.
Download Toshiba CTX-28 Brochure