Powerful Communication System for a Small Business Budget Price
Increases Your Productivity from Day 1
Sophisticated Solution, Simple to Use
Superior Home/Remote Office Functionality
Future-Proof Your Business
Improve Customer Service
Stay Connected Anywhere On-Site with Advanced DECT and Wireless IP Solutions
Easy to Use Free System Administration Application
Built-In Conference Bridge
Call Center Functionality
State of the Art Handsets with Time Saving Features Help You Work Smarter and Faster

12 and 24 Button Models
Full Duplex Speakerphones
Backlit Keypad & Soft Keys
Caller ID Call History
8 Party Conference Calling
20 Personal Speed Dials and 1000 Company Speed Dials
8 Selectable Ring Tones
Built In Wall Mount
Built In Mute and DND Keys
Dual Colored LEDs
Adjustable Tilt Stand
Built In Headset Port
60 Button Receptionist Console
Customizable Feature Keys
Advanced Features That Help you Be More Productive Everyday
Built In Customizable Music / Message on Hold

Easy to Use

SIP Trunking

Expands up to 72 Telephones

Door Phones (up to 6)

User Administration Application

T1 / PRI Compatible

Tenant Service

Call Forwarding

Automatic Call Distribution (ACD

) (coming soon)

Handsfree Intercom

Direct Station Select Keys (DSS)

Polycom Compatible

Mix Digital and IP Phones
Click here for an NEC SL1100 Brochure
Never Miss a Call In the Office or Out
Mobile Extension: Be in when you're out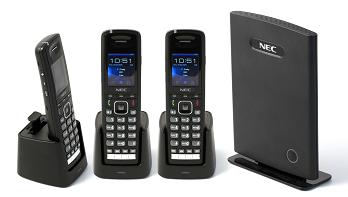 With Mobile Extension, you can take your office number with you when you're on the road. It provides you with access to system features such as caller ID, call transfer and voicemail and it really is like being in the office, whether you're traveling or sitting in traffic or just sitting in Starbucks.
Get more out of your team
Company specialists can now be empowered to maintain high service standards when out of the office, helping you make the most of the most valuable members of your staff. Mobile Extension is also a great home office alternative to an IP phone for traveling staff members.
Never miss a sales call
Salespeople can use Mobile Extension to ensure that even when they're on the road, they never miss a call which could lead to a new business opportunity.
Wireless DECT and IP Telephnones: Maintain service levels when away from your desk
With DECT handsets for wireless voice communications, you can keep in-touch with customers and colleagues from any in-building location. Don't be tied to your desk anymore.
Intuitive applications to increase efficiency and productivity
What is SL Desktop Suite?
NEC's SL Desktop Suite delivers to you an integrated unified communications (UC) solution that enhances your organization's productivity and collaboration. This productivity-boosting solution offers you key functions that deliver excellent business benefits.
Mange Communications from Your Desktop PC
The SL Desktop Suite's Desktop Client is an intuitive application providing full call control from your PC screen. With just a few clicks of your mouse, you can get more done in less time through SL Desktop Client's easy-to-use features such click-to-dial which eliminates dialing errors, speed dialing, call management and contact lookup.
For Microsoft® Office Outlook® users, it easily integrates with your Outlook contacts, providing click-to-dial functionality within emails for further time-saving benefits
Support for Remote and Mobile Workers
The SL1100 Desktop Suite's Softphone is a portable telephony application, offering you system phone functionality from your laptop, from wherever you are; ideal for remote and mobile workers. With the Softphone, your workers will have the communications tools they need to work efficiently and productively, whether they're in the office or on the road.
This versatile IP phone delivers high quality voice via a USB-connected headset/handset. It provides the full functionality and features of a regular desktop phone. Designed to meet the needs of any employee, it can be used as a primary desktop telephone, a supplemental desktop telephone or a remote/telecommuting device.
Flexibility, advanced applications and investment protection plus SIP trunking certifications
The SL1100 provides you with all of the advantages of Voice over Internet Protocol (VoIP) to help you remain competitive in today's marketplace. VoIP offers you:
Flexibility
A VoIP-enabled infrastructure enables your employees to communicate from any location. Employees can move their phone to any extension, whether it's in your main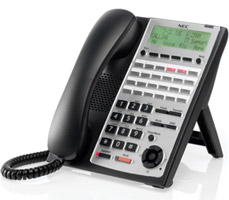 facility or a remote/home office, and simply login to access their entire feature set and messages. Softphones on their laptops can also provide them with the same functionality through Virtual Private Network (VPN) connectivity.
Advanced Applications
Without VoIP, advanced unified communication applications would not be possible. These advanced applications can help you to increase efficiency, productivity and collaboration. It also enables you to tailor communications to an individual's role to meet their specific needs.
Investment Protection
A key benefit of VoIP is a single converged architecture. It supports both voice and data and eliminates the need to maintain two infrastructures. With VoIP, you can be assured that your infrastructure will support emerging devices and applications for years to come.
SIP Trunking
SIP trunking has been shown to dramatically reduce monthly recurring operating costs over traditional digital telephony services. NEC's SL1100 communications systems are SIP-certified with a variety of service and technology providers. Call Teleco today to see what SIP providers are best for your business.
Automatic Call Distribution (ACD)
Call Center Functionality makes the SL1100 one of the most sophisticated small business telephone systems made. You can add large business, call center features without the large business price. ACD lets caller queue up for sales or service and you answer calls in the order that they were received.
Request a NEC SL1000 Quote